Chocolate Pecan Pie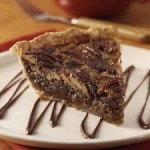 Chocolate rules! This decadent classic features dark chocolate in the pie and white chocolate in the decorating; served with bourbon crème Anglaise and strawberries.
Chocolate Almond Roulade
Almond flavored chocolate sponge with rich Irish cream filling, smothered with ganache and covered with chocolate shavings.
Tiramisu Torte
Heaven in your mouth, a twist on the classic, this espresso dipped sponge cake is topped with a blend of mascarpone and zabaglione and showered in chocolate shavings
Countess Toulouse – Lautrec's chocolate cake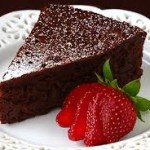 Death by chocolate on a plate; a rich cheesecake like cake, served with raspberry coulis, whipped cream and fresh berries.
Makers Mark Bread Pudding
This Creole classic using cinnamon raisin Challah for extra richness is served with a Makers Mark Crème Anglaise.
Carrot Gâteaux
Rich carrot cake layered with cream cheese frosting and smothered on the sides with chopped walnuts.
Ice Cream Roulade
Chocolate sponge roulade with vanilla ice cream dusted with confectioners' sugar; served with Raspberry coulis and fresh berries.
Pumpkin Crème Brûlé
Pumpkin Crème Brûlé topped with dolce de leche and fresh berries
Mousse Au Maison
A flight of Caramel Pumpkin, Irish Cream Chocolate and a Tres leche mousse on plate with dolce de leche and raspberry coulis brush strokes surrounded with fresh berries.
Jalousie Aux Pommes
Classic French dessert with fresh apples encased in puff pastry glazed with apricot and served with Crème Anglaise.
Tart Aux Pommes
Sweet pastry crust and authentic french pastry cream highlight this classic apple tart; served with berry coulis and chocolate dipped strawberry.
Sambuca Poached Pears with Zabaglione
Pears poached in white wine with a splash of Sambuca fanned, and perfectly matched with a light zabaglione and fresh berries.
Apple – Pear Cobbler Glacé
Homemade apple and pear cobbler with an almond walnut streusel, served warm with dolce de leche glacé
California Torte
Sweet pastry crust filled with authentic crème pâtissière highlight topped with kiwi, orange; assorted berries; served with whipped cream and a chocolate dipped strawberry.