Rice
Basmati or Jasmine Rice
Fragrant rice straight from the spice route; steamed and garnished according to the menu.
Wild Rice Medley
A wild and brown rice blend mixed with craisins and our special blend of seasonings.
Orange-Pecan Rice
Steamed white rice with orange zest parsley and just the right blend of spices.
Chinese Fried Rice
Classic fried rice perfect for any Asian Dish or buffet, filled with celery, onions, carrot, fried egg and layers of flavor.
Risotto
Arborio Rice that has a creamy texture that depending on the style, may have saffron, mushrooms or both.
Pastas
Kasha Varnishkes
Just like my mother used to make toasted & steamed kasha (buckwheat groats) with caramelized onions mixed with bow tie pasta.
Classic Orzo
Al dente orzo pasta with caramelized onions, lemon zest, and parsley and spiced for the palate.
Heimishe Barley
This recipe from my Chassidishe cousins.in Jerusalem, toasted barley shaped pasta with sautéed onions and mushrooms.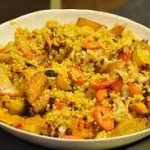 Israeli Couscous
Classic couscous steamed with vegetable stock then combined with sautéed vegetables.
Moroccan Couscous
Couscous steeped in saffron, with aromatic spices straight from the Kasbah.
Potatoes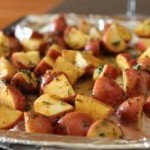 Lawry's Oven Roasted Potatoes
New potatoes seasoned with paprika, Lawry's and olive oil and roasted till crisp.
Roasted Red Bliss Potatoes
Quartered red potatoes tossed in olive oil, garlic and fresh rosemary and roasted.
Classic Baked Potato
Small Idaho potatoes rubbed with olive oil and baked till deliciously tender.
Twice Baked Potato
Idaho potatoes baked scooped and refilled with a savory filling and broiled to perfection.
Potato Soufflé
Thinly sliced potatoes layered with butter and parsley and baked till rise like a soufflé.
Lyonnais Potatoes
Slice potatoes mixed with caramelized onions and braised with a little chicken stock.
Pommes Fondant
Potatoes cut into large barrel shapes, parboiled in stock and roasted in Margarine.
Pommes Château
Potatoes cut into large olive shapes, parboiled and cooked in margarine.
Pommes Croquettes
A mix of potato and choux pastry; formed into cylinders, coated in breadcrumbs and then deep fried.
Pommes Duchesse
Seasoned purée of mashed potato and egg; piped into shapes and baked to form a browned crust
Sweet Potatoes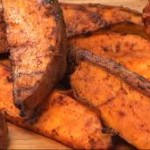 Candied Roasted Sweet Potatoes
Roasted sweet potatoes with brown sugar and cinnamon,
St. Louis Style (BBQ) – Sweet Potato Spears
Sweet Potato spears tossed in olive oil and dusted with BBQ Dry Rub and roasted.
Rôti de Patates Douces (Roasted Sweet Potatoes)

Sweet potatoes delicately seasoned, tossed in olive oil and roasted to perfection.
Potato Kugel
Our signature homemade classic made with shredded Idaho Russets, onions in a light egg custard.
Sweet Noodle Kugel
Just the right amount of raisins, cinnamon, sugar and our secret family flavors mixed with fine egg noodle custard
Salt and Pepper Kugel
Fine egg noodles custard mixed with sea salt and fresh ground Malaysian black peppercorns.
Yerushalmi Kugel
This recipe from my Chassidishe cousins.in Jerusalem, is the soul of this classic featured at every Rebbe's Table.
Broccoli Kugel or Quiche
Fresh broccoli combined with roasted garlic, caramelized onions and hint of nutmeg are the notes featured in this offering.

Cauliflower Kugel or Quiche
We incorporate into freshly chopped cauliflower a hint of Dijon, caramelized onions and garlic and topped with French's fried onions.
Carrot Kugel or Quiche
Fresh carrot puree with crushed pineapple, raisins, brown sugar for the base of this
Sweet Potato Kugel
Imagine the sweet taste of Tzimmes in a kugel; pureed sweet potato with brown sugar and cinnamon.
Summer Squash Kugel or Quiche
Fresh zucchini, yellow squash and carrots with caramelized onions make up the essence of this light offering.
Tricolor Kugel
Cornflake crumbs make the crust, layered with carrot, broccoli and cauliflower for a truly exquisite presentation.
Cranberry – Apple "Crapple" Kugel
Imagine a cranberry – apple pie with an oatmeal streusel topping, well there you have the basis of "Crapple".