Blackened Salmon
Salmon coated in our homemade Cajun rub, tenderly blackened and served with homemade orange sauce
Poached Salmon
Boneless salmon fillet poached in white wine, served with classic dill sauce.
Pan-seared Moroccan Salmon
Salmon marinated in lemon juice and spices, pan-seared with olive oil; and then braised with our Moroccan ragoût to perfection.
Pan-seared Salmon
Salmon delicately seasoned, pan-seared and finished with white wine. Served with red onion and port wine confit with orange zest.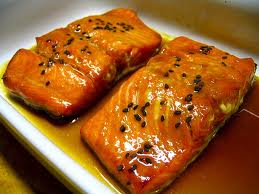 Teriyaki Grilled Salmon
Salmon marinated in our homemade teriyaki, tenderly grilled and served with homemade oriental plum sauce.
BBQ Eye Round of Salmon or Salmon Fillet
Salmon rolled into a pinwheel or Salmon Fillet and braised in our special BBQ sauce
Nut Crusted Salmon
Salmon crusted with walnuts, pan seared and slow roasted served with a red onion, orange zest and port wine confit.
Tilapia Or Grouper (Optional)

"Seafood" Stuffed Tilapia à la Provençale
Fresh Tilapia fillets stuffed with our special "seafood" stuffing; topped with Hollandaise Sauce and Provençale crust.
Beer Batter Tilapia
Homemade beer batter fried tilapia, served with Sauce Remoulade.
Herbed Horseradish Crusted Tilapia with Smoked Tomato Coulis
Tilapia fillet crusted with Horseradish fresh herbs, shallots, garlic and panko then sautéed in "butter" and served with smoked tomato coulis.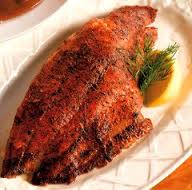 Blackened Tilapia
Tilapia coated in our homemade Cajun rub, tenderly blackened and served with homemade orange sauce.
Sea Bass or Halibut (Optional)

Pecan Crusted Sea Bass
Sea Bass crusted with pecans and slow roasted served with a red onion, orange zest and port wine confit.
Lemongrass – Curry Crusted Sea bass
Seared Sea bass crusted with fresh ground lemongrass and a hint of curry; served with Ponzu Sauce
Citrus Grilled Sea Bass
Sea bass marinated with a citrus emulsion; then grilled and served with an orange brandy glaze.