Dinner for 8
Sorry absolutely NO substitutions
Appetizer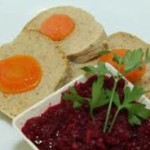 8 portions Gefilte Fish w/ Homemade Chrayn
                               Soup Course
2 Quarts of  Chicken Soup w/ Matzah Balls

Main Course
                    2 Whole Chickens cut -up any style
OR
2 ¾ Lbs. Sliced Brisket any style with gravy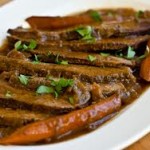 Choose 2 Starches Sides
Potato Kugel (9″ Round Aluminum Pan)
Sweet Noodle Kugel (9″ Round Aluminum Pan)
Cranberry Apple Kugel (9″ Round Aluminum Pan)
Rice Pilaf (8″ Round Aluminum Pan)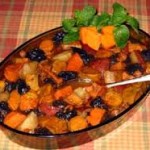 Oven Roasted Red Potatoes (8″ Round Aluminum Pan)
Choose 2 Vegetable Sides
Glazed Carrots (8″ Round Aluminum Pan)
Heimishe Carrot Tzimmes (8″ Round Aluminum Pan)
Vegetable Tart (9″ Round Pie Pan)
Ratatouille (8″ Round Aluminum Pan)

Dessert
 Apple Strudel (8 Slices)

Peach Cobbler (9″ Round Aluminum Pan)
Chicken Dinner for $224.99
Brisket Dinner for $249.99
How to place your order:
By opening the pricing link in the prices tab you'll have Item descriptions as well as serving sizes at your finger tips.
It will open in a new window.
Begin by using the tabs at the top of the window; you can refer to sections you have opened for menu ideas as well as the pricing.
You can use the menu Ideas TAB that you first encountered in the "Holiday Menu" section as a resource. We recommend you make a similar chart that lists the meals. Write the amount of guests you expect for each meal.
Next figure out how many courses you plan to serve. Then start building your menus, I recommend doing all the appetizers for each meal together and then soups, entrees, sides and desserts. This way it becomes a jig saw puzzle as you assemble the pieces and make a wonderful Yomim Norayim that will be spoken about for years.

Make sure you imagine the flavors of your selections to make sure they "fit". Think about alternatives and food challenges of your guests as well as if you are having younger children.
I would recommend (for the A la Carte menu) that you first type the item into the answer field and then in parenthesis put the amount of people ie: (12 adults /6 kids). We define kids as those under 9 years of age.
Order deadline is 6:00 PM, Sunday September 2, 2018
Any questions contact Chef Gersh