Where traditional Purim foods come from……
It is traditional to have a Purim Seudah (feast) on Purim day. And it is customary to serve food at the Purim meal that has symbolic meaning that links to the Purim story.
One custom is to serve an especially long, braided challah in memory of the rope used to hang Haman. Triangular-shaped food such as kreplach and hamantashen pastries are eaten in memory of Haman's three-cornered hat.
It is written that King Ahasuerus reigned from India to Ethiopia. In Hebrew, the word Hodu means both India and turkey. Thus, some people eat turkey on Purim. Others eat Ethiopia dishes such as Ethiopian lentils.
Since Esther ate as a vegetarian in order to keep kosher in the King's Palace, many people serve a vegetarian Purim meal.
Similarly, why is it customary to eat poppy seeds on Purim? Tradition says that Queen Esther ate only seeds and legumes when she moved into the King's Palace in order to avoid eating non-kosher food.
Wishing you all a wonderful and freylich Purim somayach from 
In addition to our regular menu, come explore the hidden flavors of Purim with our special offerings just for the holidays……
Appetizers
Salmon Hamantashen
Fresh salmon mixed with fresh herbs and tucked in a triangle of puff pastry, and served with Persian Plum Sauce.

A
vocado Eggrolls w/ Tamarind Sauce

Avocado, Sun-dried tomatoes, red onions encased in an eggroll wrapper and serve with an exotic Tamarind Sauce
Franks N Jackets
This classic dish is a favorite among children and adults alike and always finds its way into holiday menus.
Pot stickers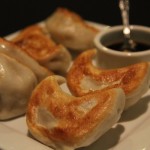 Caramelized onion, bell peppers and tofu encased in wonton wrappers, pan seared and served with pan Asian dipping sauce
Stuffed Cabbage
Classic stuffed cabbage made with the Heimishe taste.
Indian Samosa
This puff pastry beef triangle flavored with the most delicate influences of the spice route, topped with a classic chutney.
Savory Hamantashen

Sweet N Sour Corned Beef
Our classic homemade Corned beef stuffed into a wonton skin and fried like a hamentashen
Wild Mushroom
Puff pastry cut into triangles and baked and stuffed with our Wild Mushroom filling
Chicken Ala King
Classic twist on a "creamed chicken" vol-au-vant and served for the holiday.
Soups
Kreplach
Homemade beef dumplings served in our award winning chicken soup.
Wonton
Homemade chicken wontons served in our authentic Cantonese Chicken Soup.
Knishes
Potato
Classic Knish filled with mashed potatoes and caramelized onions encased in our homemade dough.
Vegetable
Another classic Knish filled with fresh spinach, caramelized onions and mashed potatoes encased in our homemade dough.
Kasha
An Old World favorite with kasha, caramelized onions and bound with a little mashed potatoes encased with our homemade dough.
2nd Ave Deli
Pastrami with deli mustard knish encased in our homemade dough a create Abe would have been proud of.
Entrées
Fong Wan Gai
Created by Shmulka Bernstein's this butterflied boneless chicken breast rubbed with deli mustard, stuffed with pastrami is crusted in our special cornflake and panko crust carefully fried and baked to perfection.
Chicken Wellington
Boneless breast & mushroom duxelles encased in puff pastry, served with a shiitake burgundy Demi-glace.
Deli Roll
A delectable jelly roll loaded with Pastrami, Corned Beef and Turkey brushed in side with deli mustard and baked to perfection.
Salmon Wellington
Fresh salmon with julienne zucchini, yellow squash and carrots with a hint of citrus encased in puff pastry, served with Bearnaise mayonnaise.
  Our Prices
| | | |
| --- | --- | --- |
| Item: | Amt | Unit |
| Appetizers | | |
| Avocado Eggrolls or Salmon | $18.99 | Lbs. |
| Franks & Jackets | $16.99 | Lbs. |
| Asian Pot Stickers | $16.99 | Lbs. |
| Stuffed Cabbage | $10.99 | Lbs |
| Indian Samosa | $11.99 | Lbs. |
| Savory Hamantashen | | |
| Sweet & Sour Corned Beef | $14.99 | Lbs. |
| Wild Mushroom | $11.99 | Lbs. |
| Chicken Ala King | $9.99 | Lbs |
| Soups | | |
| Chinese Broth with Vegetables | $7.50 | Qt. |
| Heimishe Broth with Vegetables | $7.50 | Qt. |
| Chinese Wontons | $1.75 | Ea. |
| Heimishe Kreplach | $1.75 | Ea. |
| Knishes |   |   |
| Potato | $3.95 | Ea. |
| Spinach | $3.95 | Ea. |
| Kasha | $3.95 | Ea. |
| 2nd Ave. Deli | $4.95 | Ea. |
| Entrees | | |
| Chicken Wellington | $18.99 | Lbs. |
| Fong Wan Gai | $18.99 | Lbs. |
| Salmon Wellington | $18.99 | Lbs. |
| Deli Roll | $15.99 | Lbs. |